The Sun reports that Messi, whose contract ends in the summer of 2021, has told the club board to restructure the squad totally or otherwise he would leave.
The Spanish giants were humiliated in the Champions League quarter-final after German champions Bayern Munich hit them 8-2.
Bayern were ruthless for the entire 90 minutes scoring four times in either half as Messi and co looked with so much confusion as they crashed out of the tournament.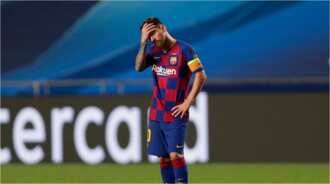 The Sun citing Spanish radio channel El Partidazo de Cope claim Messi has told the club he will leave when his contract expires next summer if there isn't a major restructuring behind the scenes.
With the Argentine legend not getting any younger, the 33-year-old is not prepared to spend the twilight of his career at a club going backwards.
Author
I Bello Babatunde Moshood, The CEO of Btbazes.com, I hail from osun state, I was bred in Oyo state I'm Living in Lagos presently, I graduate from university of uyo in 2016, I start my blogging career since 2013.