The Old Trafford Giants have hit their all-time lows in terms of winning silverware following their painful Europa League exit at the hands of Spanish side Sevilla.
The Red Devils blew away a one-goal lead to lose to the La Liga club by 2-1 which wrapped up their campaign without a title.
And it is the first time United have gone without a trophy for three straight years in the last 31 years.
This means that since Sir Alex Ferguson took over at the helm at Old Trafford in 1986, United have at least won a trophy in between three seasons.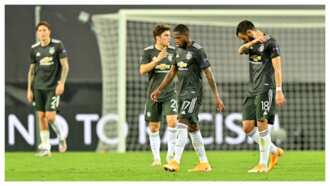 Solskjaer's men came third in the Premier League and secured a Champions League spot for next season.
Author
I Bello Babatunde Moshood, The CEO of Btbazes.com, I hail from osun state, I was bred in Oyo state I'm Living in Lagos presently, I graduate from university of uyo in 2016, I start my blogging career since 2013.