Juventus Interim Manager, Andrea Pirlo has already terminated the contracts of Gonzalo Higuain and Sami Khedira.
Reports have it that three players that would be leaving the club in barely a week as Blaise Matuidi had already left to join David Beckham's club in the MLS.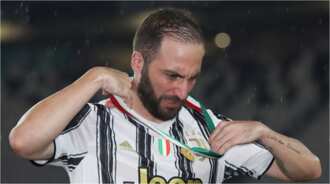 The Sun are reporting that football journalist Fabrizio Romano disclosed that exit talks are ongoing as Higuain and Khedira now seek a payout.
Juventus are currently facing serious financial problems and they have given Pirlo the obligation of reducing that wage bill.
Veteran striker Higuain is the club's third highest earner with an annual salary of £6.7m.
Author
I Bello Babatunde Moshood, The CEO of Btbazes.com, I hail from osun state, I was bred in Oyo state I'm Living in Lagos presently, I graduate from university of uyo in 2016, I start my blogging career since 2013.